Vincenzo Marsiglia is a multifaceted author: it starts from the stylistic unity of a simple graphic symbol,,it,If you continue to browse on this site you will accept the use of these cookies,,it, almost primitive, which is declined by more and different techniques, becoming almost an iconic excuse to experience the surrounding and all its possibilities.
DARK-ROOM #1 – How do you react in the dark?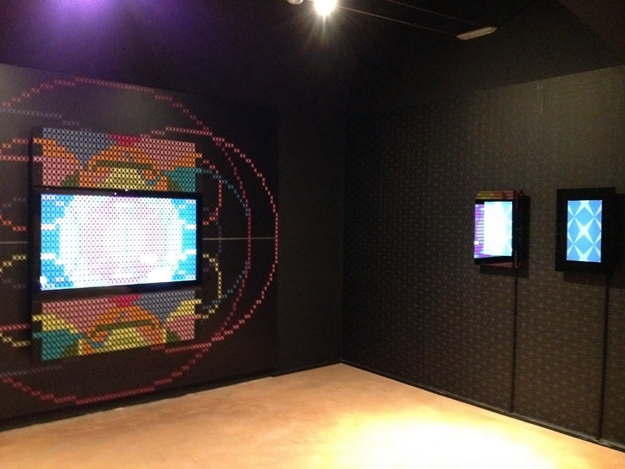 +50. SCULPTURES IN TOWN BETWEEN MEMORY (1962) AND PAST (2012)
VINCENZO MARSIGLIA, DARK-ROOM #1 – How do you react in the dark?
Curated by Gianluca Marziani, critical text by Michela Di Stefano
Palace Collicola, Spoleto
23 June - 28 October 2012
Imagine entering a place immersed in the dark, where instead of the usual pictures you are in front of the sensitive surfaces that record your every move. Where there are more of you to observe the works but it is they who, watching you, convey the image of your figure on a canvas of a virtual nature. Not, I'm not talking about the latest film by David Lynch, it is the Dark-Room#1 Vincenzo Marseille, opera site-specific set up specifically for the space underground palace Collicola, real experiment environment that combines wisdom manual and digital power, where the first extension located in the other and vice versa so, creating a scenario 'liquid' where there are no more objects but only flows. No more pictures, but only as empty, surfaces sentient Marseille plays with her magical star logo and ironic, up to create a lattice pattern that recalls the plot of digital pixels. A pattern, the stellar, Marseille, which combines the use of different fabrics, as the felt and the silk, fabrics and wallpapers that are as skins biological bone structure of the spaces, sollecitando il tatto e la vista ed invogliandoci a sfiorare le opere ed interagire con esse. È infatti attraverso tali azioni che riusciamo ad orientarci nello spazio, breaking that safe distance museum which holds us back from the work of art in awe. For here the exterior surface hides an extra dimension that wants to be discovered, crossed. Explored. As in the case of the two mirror-diptychs, verdi e fuchsia, entitled Vanity Star, panels coated with a reflective film that reflects our image and simultaneously records the imprint on the screen below, giving us the opportunity to see our own reflection, or portrait, depending on which point of view we assume. For truly a work of art that we so carefully scrutinizing ourselves, enchanted by our very presence. S-objects of this undisputed tecnodipinto. Yet there' only this, because if on the one hand and the mirror' synonymous with narcissism, and other' also a metaphor for the human imagination. One should not forget that and' through the mirror and you' realized the Wonderland Carroll, and e' it is also through this that Marseille takes us inside his secret room. A Dark-Room which recreates the intimacy of those spaces where we live, now completely filled with computer equipment that force us to rethink the way they do and enjoy the art. The space in which to experience.
Michela Di Stefano