Vincenzo Marsiglia is a multifaceted author: it starts from the stylistic unity of a simple graphic symbol,,it,If you continue to browse on this site you will accept the use of these cookies,,it, almost primitive, which is declined by more and different techniques, becoming almost an iconic excuse to experience the surrounding and all its possibilities.
Stars in my mind | Boesso Art Gallery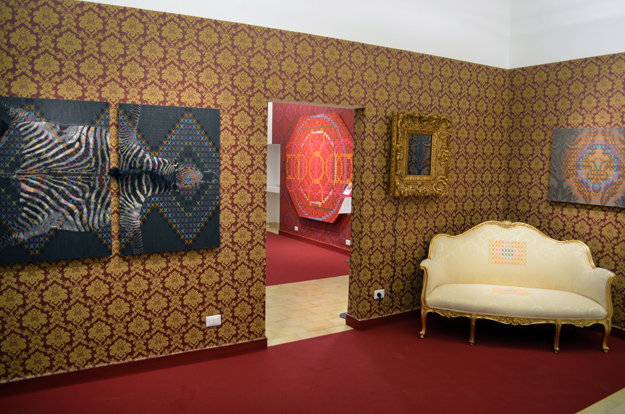 Vincenzo Marsiglia. Stars in my mind
Cassini by Giorgia
Boesso Art Gallery
Via San Quirino 54, Bolzano
17 March - 21 April 2012
Info: info@boessoartgallery.it
www.boessoartgallery.it
Interview with VINCENZO of MARSEILLE by LIVIA Savorelli Espoarte.net

The experimentation at the level of design synthesis, that has always characterized the work of Vincenzo Marsiglia, overflows the boundaries of the two-dimensional, environment becoming. "The room of the collector", recently presented in the installation personnel Boesso Art Gallery, envelops the viewer by entering him into another world, where the only conciliatory - the diversity of interventions - is the four-pointed star, that the artist has dubbed TO (Unit Marsiglia). A key element of his work and connotative, that becomes unmistakable signature style in every area in which the eye turns in Marseille, from from the frontiers of interactivity to the most glamorous design-related ...
Livia Savorelli: What did you want to create with this installation, The room of the collector, and what did you want to determine the effects on public?
Vincenzo Marsiglia: The staff recently opened at the Art Gallery of Bolzano Boesso, edited by Giorgia Cassini, has been studied just as evolvability of my job to be able to engage the viewer in its side and submerge it in the "world Marseille". The title of the exhibition Stars in my mind – the stars in my mind - is, in fact, stitched on the idea of ​​creating an environment with all the elements that make up and give life to my work. A be catapulted into this atmosphere outside the installation of each concept, surrounded by many small elements that create the physical environment, to create a hypothetical room of the collector of the present day - through the application of interactivity - and collector attached to the tradition, Thanks to the call to painting. From this exhibition we can say that there is a new Marseille!